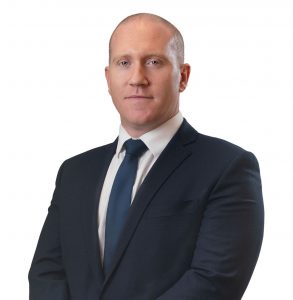 Mark is a partner in our Litigation, Insolvency & Restructuring Group where he specialises in insolvency, restructuring and investment fund litigation. He joined Campbells in 2013 having previously worked at two respected London law firms before relocating to the Cayman Islands with another law firm in 2008.
  "One of the brightest and most effective insolvency lawyers in Cayman."  Another source expanded: "we like to use him in difficult situations. He is very robust, commercial and bright."
– Chambers and Partners, 2020
  "The 'excellent' Mark Goodman wins recommendations from market commentators as a 'fabulous lawyer' who is a 'very reasonable and solid performer'."
– Who's Who Legal, 2019
Qualifications and Admissions:
Solicitor of the Supreme Court of England and Wales, 2004 (non-practising)
Attorney at Law Cayman Islands, 2008
Solicitor British Virgin Islands, 2014 (non-practising)
Areas of Practice and Expertise:
Mark advises and appears in the Cayman Islands Courts on behalf of provisional and official liquidators, creditors, shareholders, directors, managers and other professional service providers in relation to a broad range of pre and post liquidation disputes. He has acted in litigation involving widely varying commercial contexts and structures, but his practice principally involves distressed and failed investment funds.
Notable recent instructions include advising the private equity group XIO in a multi-billion dollar ownership dispute, a US$3 billion high profile and complex matter involving highly contentious and aggressive litigation being pursued in multiple jurisdictions and forums; advising the Liquidation Committee of Saad Investments Company Limited in a US$5 billion suit regarding the liquidation of SICL, including in relation to the conduct of the well-known Cayman Islands litigation brought against SICL by Ahmad Hamad Algosaibi and Brothers Company ("AHAB"); acting for a major fiduciary services provider in third party proceedings against Tangerine Investment Management Limited in a GBP150 million vicarious liability and breach of contract claim; and acting for the trustees of a high-value family trust, LOPAG Trust Reg. who are defendants to proprietary claims by two of the discretionary beneficiaries.
Mark regularly publishes articles and speaks at seminars and conferences on issues relevant to insolvency, restructuring and investment fund litigation.
Professional Associations:
Law Society of England & Wales
Cayman Islands Law Society
INSOL
American Bankruptcy Institute
Recovery & Insolvency Specialist Association (Cayman) Ltd. (RISA) Board Member
Recognitions and Awards:
RISA Attorney of the Year, 2020, 2016
Who's Who Legal Leading Restructuring & Insolvency and Asset Recovery Lawyer 2018, Cayman Islands
Who's Who Legal Global Elite Thought Leader, Asset Recovery, Business Crime Defence, Investigations, Restructuring & Insolvency 2020
Who's Who Legal Global Elite Thought Leader, Asset Recovery, 2019
Who's Who Legal Leading Restructuring & Insolvency and Asset Recovery Lawyer 2018, Cayman Islands