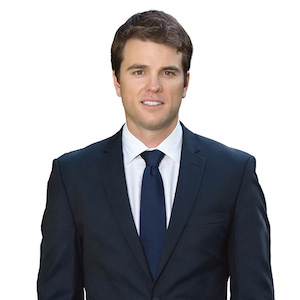 Andrew specialises in commercial litigation, international arbitration and dispute resolution. He has extensive experience acting for clients in complex and high value disputes, typically with a cross-border element. Andrew previously practised in both London and Australia with a major international firm, and holds postgraduate qualifications in both applied finance and international dispute resolution.
"Andrew Pullinger… is an outstanding litigator. Clear, decisive and engaged in the detail of issues in a way that few other partners on Cayman would be. A huge intellect and destined to be the stand-out litigator on Cayman."
– Legal 500, 2021
"Andrew Pullinger is a star litigator. Calm, assured and with a brilliant legal mind he is also a keen strategist. He is approachable and user-friendly."
-Legal 500, 2021
"Andrew Pullinger – very creative thinker, great eye for details, very user friendly. A pleasure to work with."
-Legal 500, 2021
His peers have "a huge amount of respect for him" and praise his "solid judgment".
– Chambers and Partners, 2020
Andrew Pullinger is "an incredibly bright operator" praised for his dynamic practice which has seen him act for clients in complex cross-border disputes.
– Who's Who Legal, 2020
Andrew has experience litigating in jurisdictions throughout the world, as well as conducting institutional and ad hoc arbitrations under a variety of different rules (including ICC, LCIA, AAA and UNCITRAL). Prior to joining Campbells in 2014, Andrew practised at DLA Piper in both Australia (2006 – 2009) and London (2009 – 2013). In London, Andrew specialised in international dispute resolution with a particular focus on international arbitration. He has extensive experience coordinating and leading teams in major, complex and high value disputes. He has particular expertise advising clients in respect of investment fund and other financial services disputes (especially claims against administrators, custodians and auditors), professional negligence claims and a broad range of contractual disputes. His clients have included foreign governments, major banks, leading professional services firms and other multinationals spanning a number of sectors.
Andrew is concurrently Vice Chairman of the Caribbean Branch of the Chartered Institute of Arbitrators (CIArb) and the interim Chairman of the Cayman Chapter of CIArb.
Andrew is ranked by Chambers and Partners for Cayman Islands dispute resolution and is named a "Future Leader" among Cayman Islands litigation Partners by Who's Who Legal.
Notable recent instructions include:
Leading the successful defence of HSBC in claims by a Madoff feeder fund seeking in excess of US$2 billion damages before the Cayman Grand Court and Court of Appeal (currently on appeal to the Privy Council).
Obtaining an anti-suit injunction from the Cayman Grand Court to restrain the continuation of claims in excess of US$280 million in the Supreme Court of New York.
Defending a major accounting firm in US$300 million professional negligence claims in parallel arbitration and litigation.
Acting for the joint official liquidators of ABRAAJ Investment Management Limited following the collapse of The Abraaj Group, a multi-billion dollar private equity firm.
Qualifications and Admissions:
Bachelor of Laws (LLB) and Bachelor of Commerce (B.Com), University of Western Australia, 2005
Graduate Diploma (Applied Finance and Investment), Financial Services Institute of Australasia, 2008
Graduate Diploma (International Dispute Resolution, International Arbitration major), Queen Mary, University of London, 2013
Barrister and Solicitor of the Supreme Court of Western Australia, 2007 (non-practising)
Practitioner of the High Court of Australia, 2008 (non-practising)
Solicitor of the Senior Courts of England and Wales, 2011
Attorney-at-Law, Cayman Islands, 2014
Solicitor, Eastern Caribbean Supreme Court (Virgin Islands), 2018 (non-practising)
Prior Career History:
DLA Piper UK, London, 2009 – 2013
DLA Piper Australia, Perth, 2006  –  2009