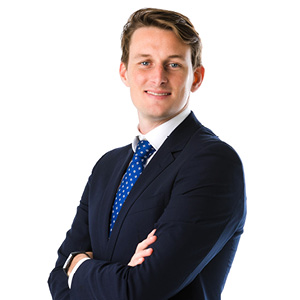 Morgan is an associate in our Litigation, Insolvency & Restructuring Group specialising in commercial dispute resolution, including insolvency, investment fund litigation, mediation and arbitration.  Morgan practised in Australia for four years before joining Campbells in September 2019.
Areas of Practice and Expertise:
Morgan specialises in insolvency & corporate restructuring
litigation, arbitration and mediation. He has enjoyed a broad commercial dispute resolution practice, generally acting for banks, liquidators and receivers, trustees, mining contractors and major construction companies. He has appeared in the Federal Court of Australia and the District Court of Queensland.
Notable Experience Includes:
Acting for the receivers of a collapsed Managed Investment Scheme in relation to recovery proceedings in the agricultural and forestry industry in Tasmania
Acting for an international mining contractor in QLD Supreme Court proceedings in relation to a $20m contractual dispute regarding the assembly and operation of a tunnel-boring machine.
Acting for voluntary administrators and liquidators appointed to a group of companies in the hospitality industry. The appointment involved a trade-on and sale as a going concern.
Acting for National Bank and receivers in a vacant possession application and subsequent sale of assets.
Acting for a national construction contractor in relation to a dispute with a sub-contractor for the civil hydraulic works package at the Queensland Emergency Operations Centre.
Acting for a Chinese-based resources company in commercial arbitration and Supreme Court proceedings in relation to the recovery of costs from a local corporate defendant.
Qualifications and Admissions:
Attorney-at-Law, Cayman Islands, 2019
Certificate in General Mediation Skills –  Department of Justice and Attorney General (QLD), 2016
Solicitor of the Queensland Supreme Court, Federal Court of Australia and High Court of Australia, 2015
Graduate Diploma in Legal Practice, Queensland University of Technology, 2013
Bachelor of Laws, Queensland University of Technology, 2013
Bachelor of Journalism, Queensland University of Technology, 2013
Law Exchange Program, Arizona State University, 2013
Prior Career History
Allens Linklaters, Brisbane
Australian Federal Government's FEG Recovery Program (Secondment)
McMahon Clarke, Brisbane
Associate to his Honour Judge Kiernan Dorney QC, Queensland District and Supreme Court